Business Counsel License & Foreign License Instructions
In order to apply for a Foreign License or Business Counsel License, you must register for an account on our website.
You will click the red button for applicants to the bar: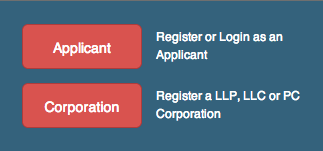 You will then click the red "Register" button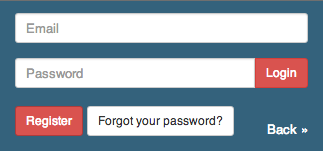 This will take you to the registration screen. Please complete all of the required fields and submit your registration. You will receive an e-mail letting you know your account has been set up and instructions on what needs to be done next.
Please note all of our communication with you will be done electronically:
We primarily communicate with applicants electronically rather than through the mail.

It is your responsibility to:

Maintain at all times a current email address on your personal Indiana Board of Law Examiners registration page. Please make certain you use an email address that is unique to you and not shared by others.
Add noreply@myble.courts.in.gov to your email address book and ensure our emails are not filtered as spam.
Regularly read all email.
Regularly visit our web page.
You are charged with knowledge of all communications sent to the email address you provide on your personal Indiana Board of Law Examiners registration page and of all announcements and information posted on our website.
You will notice at the bottom of your user homepage there are several PDF forms. These forms must be completed and uploaded back to your user homepage AFTER you submit your application. The Three (3) original Authorization and Release forms must be mailed directly to the National Conference of Bar Examiners. (There is a single Authorization and Release form listed, you will print this and complete it three times for the NCBE.)
Your application will not begin processing until they receive these documents, so make sure you mail them right away.
National Conference of Bar Examiners
302 South Bedford Street
Madison, WI 53703-3622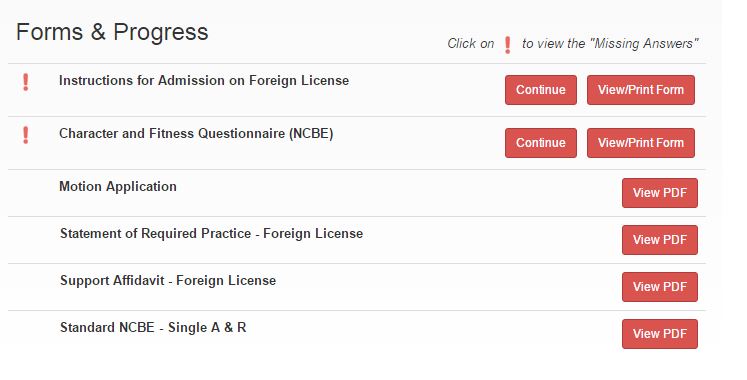 You will see the red ! until all answers are completed on the application. You will not be able to submit your application until every questions is answered. You can check to see what is missing by clicking the

If at any time you have technical difficulties, please click the gold button at the bottom of the screen and submit a technical support ticket.
You must register for an account by following the instructions here