Registration Instructions
Welcome to the Board of Law Examiners' new online application and registration system. All applicants who seek admission to the bar (whether on examination or on motion) or to register as a certified legal intern are required to register and submit an application through this new online system.
Below are instructions and information on how to register for the Bar Exam, PC/LLP/LLC and Certified Legal interns.
You must register here on this site in order to complete an application for Bar Admissions, PC/LLC/LLP or Certified Legal Intern.
Once you submit your registration, you will receive an e-mail from "MyBLE Admission Office noreplymylbe@courts.in.gov asking you to activate your account. Once your account is activated, you will be able to log into the system via the Red Applicant and Corporation buttons found in the top right hand corner of the myble.courts.in.gov website.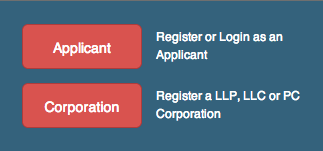 You will login with your e-mail address used in registration as well as the password you created. Type the E-mail address on the top line, password on the second line and then click the "Login" button.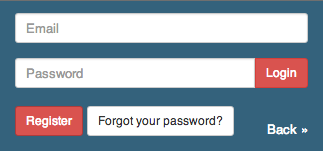 If you have forgotten your password, click the "Forgot your password?" button and you will be allowed to reset your password.
Once you log into the system, you will choose the type of application you would like to submit.
Bar Exam
Are you sure you want to apply to the (Month/Year) Indiana Bar Examination?
1. Have you taken the Indiana bar examination previously?
This question is for those who have been unsuccessful on previous exams. If you choose, no. You will move on to the next question. If you choose, yes, you will be asked if it was the immediate preceding examination. If you took the preceding examination, you will move forward to the "short form". If you skip an application cycle, you will have to complete the entire bar exam application.
2. Do you plan to request non-standard testing accommodations?
If you do not select "Yes" on this question you will not be able to complete the non-standard testing accommodations application without submitting a "Technical Support Request"

Please note: Non-Standard Testing Accommodations applications MUST be submitted with the Bar Exam Application.
Once these steps are complete, you will submit registration by clicking the "Submit Registration" box.

You may also choose to start over, or cancel your registration at this time.
Once inside your "Applicant Home page" you will see the "Forms in Progress". These are all the forms that must be completed in order for your applicaiton to be complete.
Once you complete your application and submit the funds, you will need to log back into your "User Home Screen" and upload additional documentation. Your application is NOT considered accepted until this additional documentation is uploaded to your account. This includes the following forms:
Authorization and Release (You must retain the original in the event we must request an original signed form)
Certified BMV Report, Photo.
You cannot upload additional documents until your application has been submitted with the proper filing fee.
Additional documentation that must be uploaded will be based on answers within the application. If you answer yes to a question that requires additional documentation, you must upload that documentation to your account following submission.
You need to make sure you are receiving emails from our system. Please add "myble.courts.in.gov" to your contact list and check your spam folder to make sure you'll be receiving further communication from our system.